Ikoi Sushi: Assorted Nigiri
Okay, I've been to Ikoi Sushi, located in the Sapperton area of New Westminster, many times in the past so I'll keep this post relatively light. If you want to read more about Ikoi, take a look at our previous post.

Back in October, I was prepping for our Japan trip by eating copious amounts of sushi and sashimi… hence my order here for a bunch of nigiri.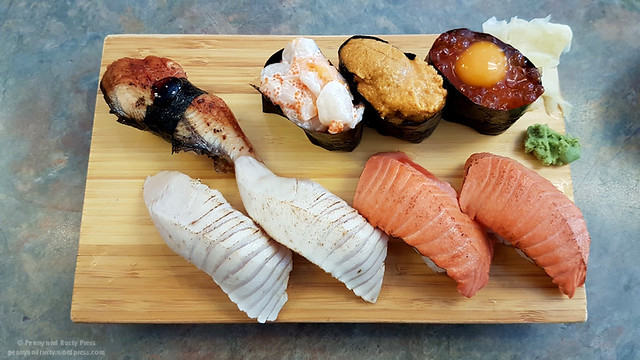 Unagi ($2.50), Chopped Scallop ($2.00), Uni ($3.50), Ikura with Quail Egg ($2.50 + $0.50), Sockeye Salmon Aburi ($2.00 + $0.25), Toro Aburi ($2.50 + $0.25). I like how they let you customize your nigiri by adding a quail egg for $0.50 or by turning your regular nigiri into aburi for an extra $0.25.
The uni was better than at Sushi S (but still not as good as the one we had in Tokyo). Still, it was creamy and not as strong or salty in flavour. I enjoyed how the ikura (salmon roe) was popping in my mouth and the toro remained buttery even after the sear. Overall, the toro (fatty tuna) was the best of the bunch.
I came back for a revisit 6 months later (I know, I know… I'm really backlogged with my blog posts). In any case, I was in the mood for nigiri again so…
Clockwise from the top-left: Hamachi ($2.50), Sockeye Salmon ($2.00), Amaebi ($2.50), Toro ($2.50), Tobiko with Quail Egg ($1.75 + $0.50), Unagi ($2.50), Hotate aburi ($2.00 + $0.25), and Tako ($2.00).
The nigiri here has a good fish-to-rice ratio and I loved the popping of the tobiko mixed with the creaminess of the quail egg. Both the scallop and the sweet prawn were quite good and packed a bit of a kick from the wasabi underneath the sashimi. My only complaint was that I felt the unagi needed more sauce and wasn't as buttery as I would have preferred.
Overall though, the food here is pretty solid.
105 – 450 Columbia Street
New Westminster, BC
Posted on April 12, 2017, in Japanese, Restaurant Review and tagged Aburi Sushi, Food, Hamachi, Hotate, Japanese, New Westminster, Nigiri, Quail Egg, restaurant review, Sapperton, Sushi, Tako, Toro, Unagi, Uni. Bookmark the permalink. 1 Comment.